Oracle RDC with Safari on Mac OS
Oracle Remote Data Capture 5.0+ client is now certified with the Safari browser on Macintosh OS X. In particular, for our current release (RDC 5.2.1), the software requirements are
The RDC production link is https://fes03.pmacs.upenn.edu/edcp
Troubleshooting
Users may initially experience a few issues in setting up the RDC client on Safari.
In this section, we describe some of the most common issues and possible solutions.
If your issue is not listed or for any other technical problem, call (+1 215-543-0426) or email (crcuhelp@mail.med.upenn.edu) our Help Desk.
Pop-up blocker error when trying to bring up a DCI

By default, Safari blocks pop-ups from an unknown server.
To solve this, go in Safari's Preferences/General.
You will see that our RDC server, fes03.pmacs.upenn.edu, is not allowed to display pop-ups:

Change 'Block and Notify' to 'Allow'.
Restart Safari and try again.
When clicking on a DCI, Safari prompts to download it

To solve this issue, click on 'Allow'. The file will be downloaded in Safari's Downloads folder.
Click on the Downloads button (arrow down symbol on the right side of Safari's Menu) and you will see the file:

Right-click on the file and select "Show in folder":

The Finder will open, showing the location of the file.
Now right-click on it and select Get Info:
The File Info window will be displayed:

Click on the "Open with" option and you will see that no application is set to open this type of files: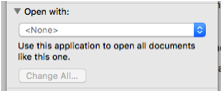 Click on the arrows button and the 'Open with…" window will open.
Enable 'All Applications" (so all listed application will be available), check the "Always Open with" option and select Safari from the Applications list: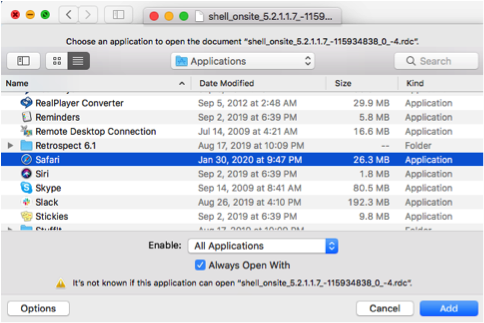 Click the Add button.
The Get info window will now show Safari as the application selected to open this type of files:

Now click the Change All button, and you will be prompted to confirm:
Click Continue.
Log out from RDC and restart Safari.
From now on, the RDC DCI file type should open in Safari.
To test, restart Safari, log back in RDC and try displaying a DCI again.
When you log out RDC, an hour clock keeps spinning indefinitely
You logout RDC, but instead of being redirected to the RDC logout page, an hour clock keeps spinning: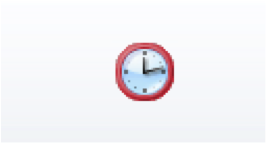 This is a bug Oracle is working on. Just close Safari.