Clear Cache
What is Cache?
include "what_is_cache.txt"; ?>
Steps to clear cache
Go to Internet Explorer's (IE) tools menu in the top right corner of your screen. The tools menu may appear as a gear in the upper right hand corner. Click the menu and select option "Internet options".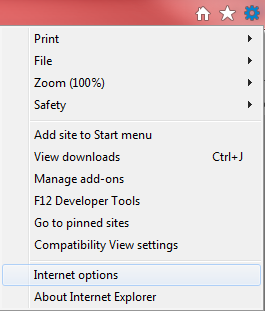 On the "General" tab, click button "Delete...".
Check option "Temporary Internet files and website files" and option "Cookies and website data". Choose any other options at your own discretion. Click button "Delete".