Configure JRE with JNLP on Mac OS X
System Requirements
Intel-based Mac running Mac OS X 10.7.3 (Lion) or later.
Administrator privileges for installation
64-bit browser like Safari
Note: installing Java on a Mac is performed on a system wide basis, for all users, and administrator privileges are required. You cannot install Java on a single-user basis.
Installation
Download from the latest 1.8. version (currently 1.8.0.241) from the Java download site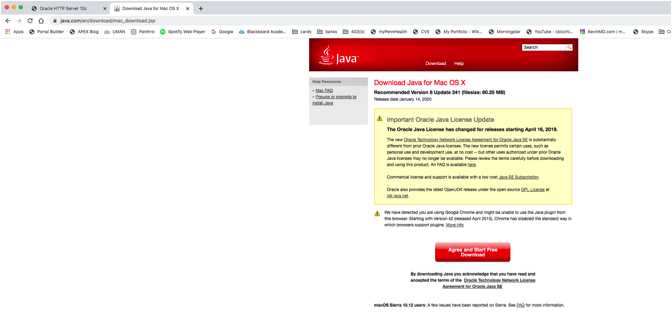 <
Click Agree and Start Download the download will start

Once the DMG file download completes, the following window will come up:

Double-click the package icon to launch the installation.
The following message may come up:

Click Open and the installation will start
The system will ask you to enter your credentials (Note: You must have administrative privileges ):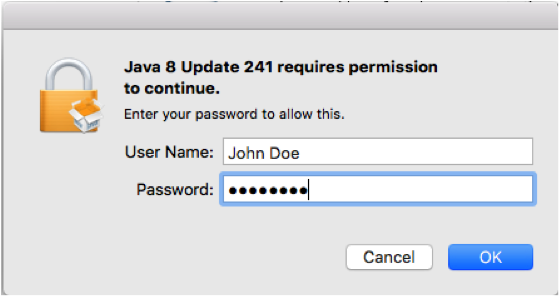 The install Wizard will start: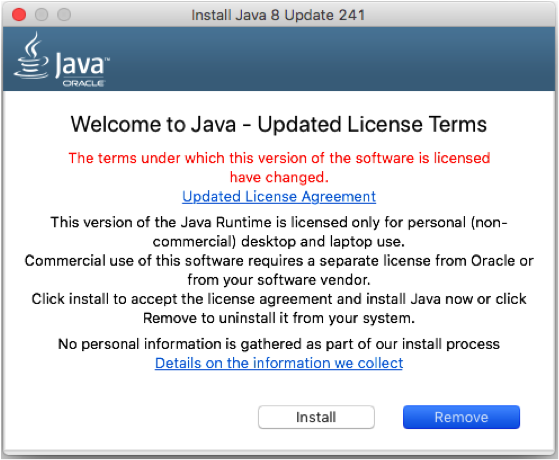 Click install and the installation will continue until completion:
<
Click Close. The installation is complete
Troubleshooting
In this section, we describe the most common issues encountered and possible solutions.
If your issue is not listed or for any other technical problem, call (+1 215-543-0426) or email (crcuhelp@mail.med.upenn.edu) our Help Desk.
The browser wants to download a file
You click on the application link in the browser to start the Java app, but the browser issues this message instead:

Click Allow. This authorizes the browser to download the app's JNLP file.
The Java app does not automatically start
You have executed the Java app link, but the JNLP is downloaded, not executed.
This is a sign that the browser does not know what to do wit JNLP files. Click on the arrow down symbol on the right side of the menu. The JNLP file will show up:

Click on the JNLP file to start the application
Double-click on it and the Java apps should start
Before starting the Java app I get the following message: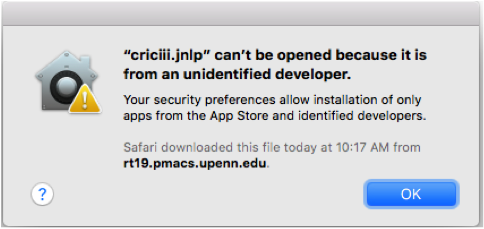 This is a sign that your system's security has blocked the execution of the Java app.
To solve this, go in System Setting select the Security and Privacy icon. The following screen will come up: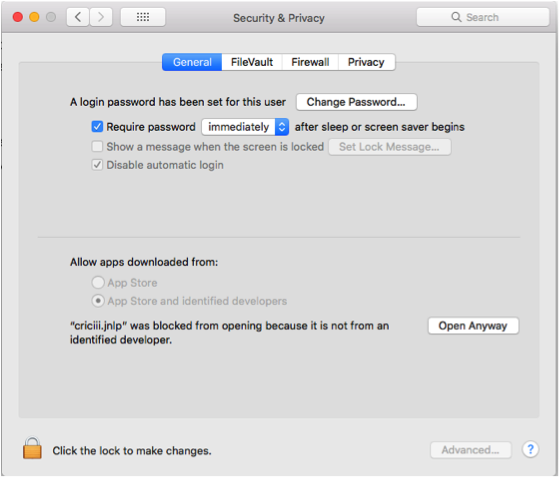 You will see at the bottom a warning that the app's JNLP file has been blocked. Click on Open Anyway.
The app should start but instead I get this message
You have authorized the system to run an app from an unidentified developer, but it gives you one more chance to open the app or cancel the operation. Click Open
The app starts, but I get this new message
Click "Do not show this again…" and click Run.
Now the system should remember your preferences and should not ask your authorizations anymore.