Configure Compatibility View
Symptoms
Case Report Forms (CRFS) are opening but checkbox borders and other graphical objects may not display.
Calendar tool does not work.
Configuration Steps
Go to Internet Explorer's (IE) Tools menu in the top right corner of your screen. The tools menu also appears as a gear (
) in the upper right hand corner. Click the menu and select option "Compatibility View Settings".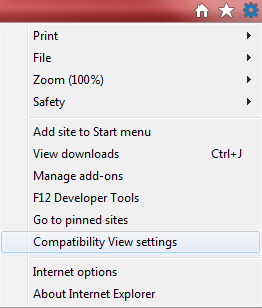 Type "upenn.edu" in box "Add this website" then click "Add". "upenn.edu" will then appear in box "Websites you've added to Compatibility View".